Sportsmen Against Hunger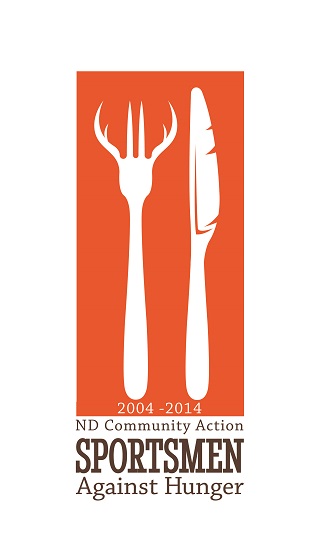 ---
Thank you for your interest in the North Dakota Community Action Sportsmen Against Hunger program! This year is particularly exciting for us because it is the program's 10th Anniversary. In honor of ten years of helping hunters provide healthy sources of meat to food pantries across North Dakota, the program has gotten a facelift, including a new logo and slight change to the name. While the program may look different, we still have the same goal: To increase the amount of legally-obtained game meat donated to food pantries in North Dakota. We are able to accept most legally-obtained wild game, please contact Sarah Hasbargen at sarahh@sendcaa.org or (701) 232-2452 with any questions.
Please remember, the program is reliant on donations and grant funding to pay for the processing of all donated game. A big thank you to the Walmart Foundation for their contribution to the program. We'd also like to thank the many hunting groups across the state that support the program. If you are interested in helping the ND Community Action Sportsmen Against Hunger program continue to be able to pay for processing costs, please contact us via http://www.capnd.org/contact/submitquestion.html
Please note: In 2014, The North Dakota Community Action Sportsmen Against Hunger program is only able to accept Canada geese from August 15 to August 31st. We can accept Light geese, and other breeds as permits allow, during the entire early and regular season. When donating geese, please be sure to leave a wing attached so it can be identified by the processor.
---