​Weatherization Assistance Program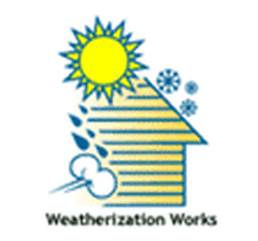 Types of Weatherization Services
Each household is visited by an energy auditor who decides which conservation measures will be most effective for the home. 
There are nine general categories from which the auditor may choose based upon their ability to save energy.
General Heat Waste: Measures that reduce air infiltration and heat loss in the home. This typically includes caulking and weatherstripping which in recent years has been guided by the use of a blower door.
Attic Insulation: Insulation is installed to bring the attic up to an R-49.
Wall Insulation: Wall insulation is installed to R-19.
Floor Insulation: Floor insulation is installed up to R-19 in floors over unheated basements or crawlspace and in mobile home bellies.
Perimeter Insulation: The insulation of the interior or exterior of the foundation depending upon existing conditions.
Windows: The installation of a series of window treatments that prevent or mitigate heat loss. These include the installation of window films and storm windows.
Doors: The installation of a series of door treatments to reduce heat loss including repair and replacement.
Furnace Efficiency Measures: Includes testing of heating systems for efficiency and safety purposes. Repair and/or replacement is allowed based on energy efficiency and savings to an investment ratio.
Building Repair: This measure includes a variety of repairs to the house structure which are necessary to protect the integrity of eligible weatherization measures.
Each energy conservation measure must return a minimum of $1.00 in savings for every $1.00 expended in labor and material costs (also called an SIR requirement). After the job is completed and inspected by the agency, the client is asked to sign off on the work. Each agency will stand behind their work for a period of one year.

Repairs can be only be made if they support eligible weatherization measures and only if the individual measure SIR remains over one when repair costs are added in. The SIR requirement does not allow for general housing rehabilitation, cosmetic improvements to the home or low payback measures such as mobile home skirting.
Eligibility
Department of Energy
200% of poverty
No assets test
 2015 Household Income Guidelines
 Size of Family Unit                   Maximum Family Income 
 1                                                     $ 23,540     
 2                                                    $ 31,860 
 3                                                    $ 40,180 
 4                                                    $ 48,500 
 5                                                    $ 56,820 
 6                                                    $ 65,140
 7                                                    $ 73,460
 8                                                    $ 81,780 
For Each Additional Household Member, Add   $   8,320
LIHEAP
Must qualify for fuel assistance first
150% of poverty 
Assets test
To request general program information please contact Brenda at brendab58301@yahoo.com. 
For questions about program operations contact Norris at norriselshaug@yahoo.com
Telephone: 701-662-6500/1-800-321-5943 Norris (Ext. 330) & Brenda (Ext 327)