Four Cornerstones of Financial Wellness Train-the-Trainer
Presented By: Lutheran Social Services of Minnesota (LSSMN) Financial Counseling Experts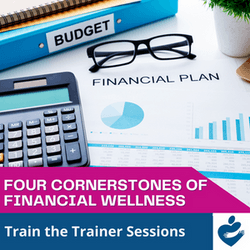 The goal of this training is to empower human service professionals to teach, train and support financial literacy for people in their communities. This practical and affordable training equips professionals with the expertise and confidence to integrate financial coaching into their current work with clients.
This training is limited to 50 participants.
Cost: $100/participant 
Dates: Mon. April 17th | Wed. April 19th | Mon. April 24th | Wed. April 26th
Time: 12:30pm – 2:30pm CST/11:30am – 1:30pm MST
Location: Via Zoom
Who Should Attend: Direct service professionals who help individuals build their knowledge of household budgeting, who provide individuals with coaching and tools that support their journey to financial stability, and those who support the community through economic changes. Training is open to all Community Action employees from Region 8 (Colorado, Montana, North Dakota, South Dakota, Utah & Wyoming)
All participants will be required to attend all four sessions with their cameras on because it is an interactive training. Because this is a webinar over two weeks, the LSSMN trainers require "homework" outside of class time.