About the Conference
Every year, a different state in the Region 8 and 10 network hosts the Regional Community Action Conference. This year, we are beyond excited to host the Region 8 and 10 Community Action Conference on May 16-18, 2017! So much has changed since the conference was last hosted in North Dakota, so we can't wait for you to see how far we've come.
Regions 8 and 10 include the state of: Alaska, Colorado, Idaho, Montana, North Dakota, Oregon, South Dakota, Utah, Washington, and Wyoming.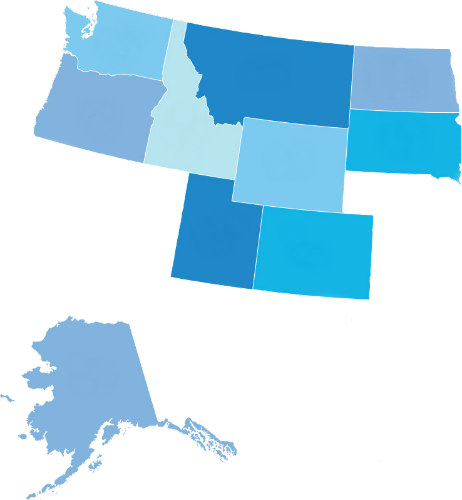 The conference will offer dynamic sessions with both local and national leaders lending their expertise on a variety of topics, including: Weatherization, Organizational Performance Standards, ROMA Next Generation, Coordinated Regional Training and Technical Assistance, Compassion Fatigue and Burnout, Housing First, Harm Reduction, and much more.
Event Details
2017 Regions 8 & 10 Community Action Conference
Tuesday 05/16/2017 - Thursday 05/18/2017
Holiday Inn Fargo: Hotel and Convention Center
3803 13th Avenue South
Fargo, ND 58103
What Happens?
We work tirelessly throughout the year leading up to the Regions 8 and 10 Community Action Conference to develop a program tailored to your needs and interests. Here's a sneak peak at what we have in store for you this year:
4 group sessions, each with high-profile speakers from our national network who will pique your curiosity and make you eager to learn more.
More than 30 breakout sessions that will make you look forward to going back home to implement what you learn, including a specialized Weatherization track.
Several afternoon-long capacity-building workshops, which offer in-depth, hands-on training on issue areas and competency areas you've told us you want to learn more about.
Special networking events, including a reception with great food, conversation, and raffle drawings.
With three action-packed days, the 2017 Regions 8 and 10 Community Action Conference offers endless possibilities for you to design the ideal Conference experience. For more details, visit the At-A-Glance Page.

Social Work CEUs
This conference has been approved for up to 8.5 face-to-face hours and 1.5 ethics hours in continuing education for Social Workers.
Who Attends?
If you envision a nation where everyone has the opportunity to build self-sufficiency, then this conference is the can't-miss event for you. The Regions 8 and 10 Community Action Conference brings together a diverse range of professionals working to boost self-sufficiency among individuals, families, communities and the nation. All Community Action staff from Regions 8 and 10, including program managers and administrators, front-line staff, case workers, executive directors, weatherization, fiscal, and board members are encouraged to attend. Policy makers, partner agencies, and anyone interested in poverty and professional networking opportunities are also invited and welcome to attend.
About Community Action
Community Action Agencies (CAAs) are nonprofit private and public organizations established under the Economic Opportunity Act of 1964 to fight America's War on Poverty. Community Action Agencies help people to help themselves in achieving self-sufficiency. Today there are approximately 1000 Community Action Agencies, serving the poor in every state as well as Puerto Rico and the Trust Territories.
Thank you to our sponsors and exhibitors!