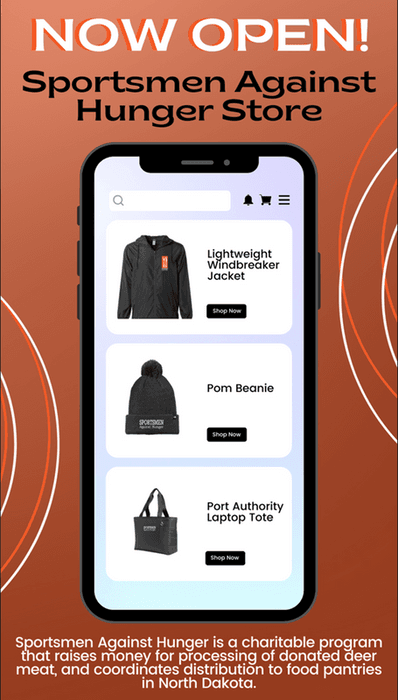 CAPND's Sportsmen Against Hunger Store has launched just in time for the holiday season! These items are perfect for gifting to others or keeping for yourself! This link will be available until January 31st, 2023.
Check out the store here and support the program!
 There are a variety of jackets, t-shirts, flannel, hoodies, bags and more!

Community Action Partnership of North Dakota Sportsmen Against Hunger organizes the donation of legally-obtained wild game to food pantries across North Dakota.  Hunters can donate venison to processing sites across the states. Food pantries continue to be in need of healthy sources of protein, particularly fresh/frozen meat. Perishable items are often the least donated, yet they are the most needed to prepare healthy, balanced meals. CAPND is proud to bring together generous hunters, willing to donate game meat with families who can benefit from no-cost, nutritious protein sources.
Since 2004, Sportsmen Against Hunger program has grown and changed with the needs of the state. Since the Covid-19 Pandemic, we have seen an even greater need for Food Security across North Dakota.  SAH hopes to address this need by increasing donations of legally-obtained game meat to food pantries statewide.
We're excited for the 2022-2023 season with the addition of two new processors in Medina and Carrington!   Last year, SAH distributed 2,770 pounds of meat to food pantries across North Dakota.