Starting in August, Census Bureau workers will visit households that haven't yet completed their census. Here are 5 ways to confirm that the person at your door is an official Census employee! If you'd like to avoid an in-person visit, complete your census online, over the phone, or on the paper form that was mailed to your house as soon as possible.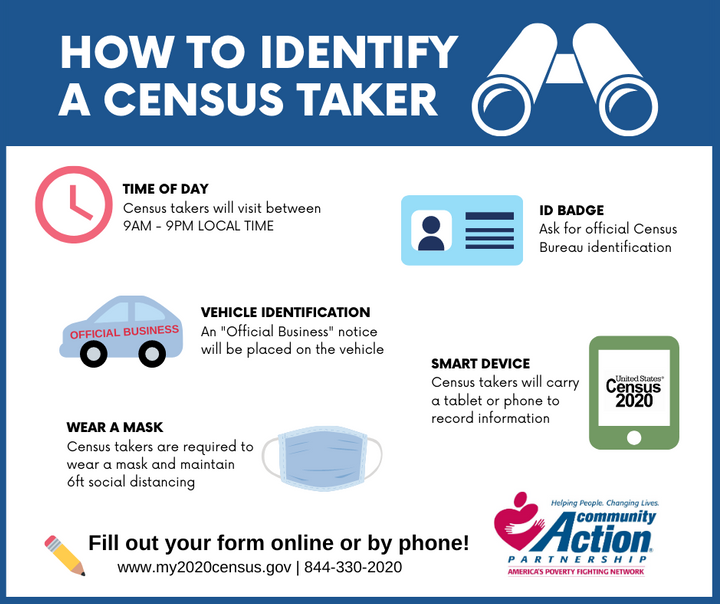 ---
3 Ways to Complete the Census - By April 1, 2020, every home will receive an invitation to participate in the 2020 Census.  The 2020 Census marks the first time you'll have the option to respond online.  You can even respond on your mobile device!  You will have three options for responding:
Online. You can respond online using your computer, smartphone, or tablet.  Click here. 
By Phone.  To begin, call 844-330-2020, or call the number associated with your preferred language. 
By Mail. You can mail back the paper Census questionnaire sent to your home -  follow these instructions. 
---
What are the 2020 Census Questions?
As required by the Census Act, the U.S. Census Bureau submitted a list of questions to Congress on March 29, 2018. Based on those questions, the 2020 Census will ask the following questions. 
How many people are living or staying at your home on April 1, 2020.

This will help count the entire U.S. population and ensure that we count people according to where they live on Census Day.

Whether the home is owned or rented.

This will help produce statistics about homeownership and renting. The rates of homeownership serve as one indicator of the nation's economy. They also help in administering housing programs and informing planning decisions.

About the sex of each person in your home.

This allows us to create statistics about males and females, which can be used in planning and funding government programs. This data can also be used to enforce laws, regulations, and policies against discrimination.

About the age of each person in your home.

The U.S. Census Bureau creates statistics to better understand the size and characteristics of different age groups. Agencies use this data to plan and fund government programs that support specific age groups, including children and older adults.

About the race of each person in your home.

This allows us to create statistics about race and to provide other statistics by racial groups. This data helps federal agencies monitor compliance with anti-discrimination provisions, such as those in the Voting Rights Act and the Civil Rights Act.

About whether a person in your home is of Hispanic, Latino, or Spanish origin.

These responses help create statistics about this ethnic group. This is needed by federal agencies to monitor compliance with anti-discrimination provisions, such as those in the Voting Rights Act and the Civil Rights Act.

About the relationship of each person in your home.

This allows the Census Bureau to create estimates about families, households, and other groups. Relationship data is used in planning and funding government programs that support families, including people raising children alone.
---
During the 2020 Census, the Census Bureau will never ask you for:
Your Social Security number.
Money or donations.
Anything on behalf of a political party.
Your bank or credit card account numbers.
If someone claiming to be from the Census Bureau contacts you via email or phone and asks you for one of these things, it's a scam, and you should not cooperate. For more information, visit Avoiding Fraud and Scams.
---
Why is the Census Important?
The census is a way to have your voice heard, to make a difference. It's the perfect time to be a face in the crowd. On April 1, 2020, the United States will conduct its constitutionally mandated decennial (10 year) census to determine the current population of the United States.




---
Census 2020 in North Dakota
It is easy to understand the importance of the census when you look at the financial figures. In fiscal year 2015, $1.45 billion in federal funds were allocated to programs in North Dakota based upon resident count from Census 2010 and subsequent annual population estimates. These programs include: Medicaid, highway construction, Head Start, Foster Care, SNAP, Low Income Energy Assistance, Special Education and other programs. That means approximately $1,910 in federal funds per resident was spent that year. Of all the statistics we live with, the census count is one of the longest-lasting as the census occurs only once every 10 years.
What is the Financial Impact if North Dakotans are not Counted? 
$19,100 for each missed person
$44,312 for each missed household
$15 million for 0.1% of the population not counted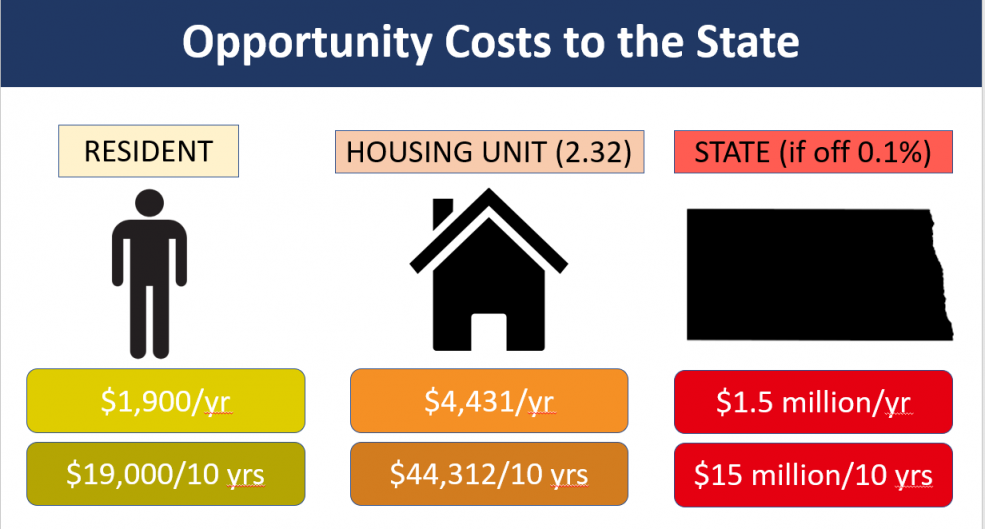 ---
Community Action and 2020 Census
Community Action Agencies in North Dakota and across the United States are committed to doing our part to count everyone!  
2020 Census Resources for Community Action Agencies
---
Additional 2020 Census Resources
---
Common Questions and Answers
Do they come to my house?

If you do not complete the Census form by the end of the April, a Census staff member will visit your home to conduct the Census in-person.  They will not enter your home.  

You will get a letter in the mail, with instructions on how and when to complete the Census in March.
Completing the decennial Census before the end of April does not mean a Census employee won't come to your home for verification of other Census surveys, although it does make it less likely. 

Can I help someone fill out their Census form?

Yes! 

As a CAA staff member, you CAN help a person get online and pull up the proper form.  
You can sit with a person and read the form over with them prior to their completing it.
You

CANNOT

 fill out the form for them.  There are privacy concerns that prohibit you from doing so.  DO NOT LOOK AT THEIR ANSWERS. 
A family member can help them fill out the form online or on paper.
You can help them call the Census hotline for them to provide their information over the phone, or you can arrange for a Census Bureau staff member to help them in-person.  

Do I participate if I am not a citizen?

Yes, the US Constitution says that the Census should count every person, whether citizen or not.

Federal money and creation of districts are both based on total size of population, not just citizens.
There a number of safeguards in place to protect the privacy of data shared, including citizenship status.

Is it safe for me to provide my information?

Yes! Under the law, Census data can only be used for statistical purposes.
Personal Census information cannot be disclosed for 72 years (including names, addresses, and telephone numbers, and citizenship status).
Census Bureau staff who have access to personal information are sworn for life to protect confidentiality

What if I have accessibility issues?

The Census has several ways forms can be returned

The Census Bureau has dedicated staff members to assist people who have language or disability barriers.
Census forms can be filled out online, on paper, or over the phone.
Your Complete Count Committee will have more resources to help you guide customers.
---