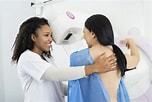 Women's Way
What is Women's Way?
Women's Way may provide a way to pay for breast and cervical cancer screenings for eligible North Dakota women.
In 1990, Congress passed the Breast and Cervical Cancer Mortality Prevention Act, which launched funding for the national breast and cervical cancer screening program.
The Centers for Disease Control and Prevention (CDC) distributes the money and oversees the national program.
North Dakota received funding in 1993 for planning and system development.
The North Dakota program was named Women's Way and began offering screening services in 1997.
Women's Way is administered through the North Dakota Department of Health and local public health offices.
Limited diagnostic procedures are also available to women enrolled in Women's Way.
In 2001, the North Dakota state legislature passed and Governor Hoeven signed legislation allowing uninsured Women's Way clients who are diagnosed with breast or cervical cancer to access treatment coverage through Medicaid – Women's Way Treatment program.
Women's Way State Office
800-280-5512
(toll-free within N.D.)
701-328-3398
womensway@nd.gov
Women's Way
Division of Community & Health Systems
North Dakota Department of Health
600 E. Boulevard Avenue, Dept. 301
Bismarck, ND 58505-0200