Welcome to the Community Action
Partnership of North Dakota!
The Community Action Partnership of North Dakota serves the collective interests of its members and the low-income population of the state through representation and education.
Community Action Agencies were originally established under the Economic Opportunity Act of 1964 to fight America's War on Poverty. Today, there are seven Community Action Agencies in North Dakota who provide programs and services in all 53 counties. By combing local, state, private, and federal resources the Community Action Agencies enable low- and moderate-income people of all ages to secure the opportunities they need to obtain and maintain self-sufficiency.
Established in 1976, the Community Action Partnership of North Dakota is a private, non-profit membership organization representing the eight Community Action Agencies in North Dakota.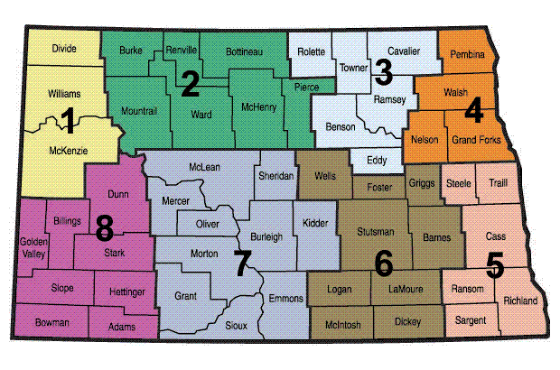 News & Announcements
Andrea Olson on 01/23/2016

Senator Heidi Heitkamp visited our Weatherization Crew while they were on the job in Grand Forks, ND. See the pictures!

Brenda Sather Retiring

Andrea Olson on 01/19/2016

After 36 years, Brenda Sather, the Executive Director of the Community Action Program of Region VII is retiring this week! Brenda is an invaluable part of our entire network; she is a tireless advocate for the people of North Dakota. Her love for the work of Community Action is unwavering and will never be forgotten.

Brenda, we will miss you! Thank you for everything you've done for Community Action and the people of our fine state.

Andrea Olson on 01/15/2016

SENDCAA (the Community Action Agency in Fargo, ND) is currently seeking qualified applicants for the position of Case Manager for the Supportive Services for Veteran Families program.

This position will provide supportive services using strength-based case-management, Housing First, and Rapid Re-Housing models. Proves assessment, crisis intervention, linkage and referral to community and veteran's services to veterans and their families who are homeless or at risk of becoming homeless. Conduct outreach in the community in order to identify and screen eligible participants. Establish case plans on primary goals of housing stability, increased income/financial resources and skills, and self-determination.

Minimum qualification required: A bachelor's degree in Social Work or related field, one to two years of experience in a human service setting. Prefer experience working with the homeless and/or veteran population.

This is a fulltime position with excellent benefits and a competitive starting salary.

To apply submit a SENDCAA application, letter of interest, resume and three references. Applications can be submitted online of by mailing to:

SENDCAA
Human Resources
3233 South University Drive
Fargo ND 58104

Position open until filled.

Andrea Olson on 01/13/2016

The Low-Income Home Energy Assistance Program (LiHEAP) helps low-income families with heating costs. You may qualify if: your income and assets meet eligibility guidelines AND you buy fuel from a dealer or utility company OR your rent (non-subsidized) includes heat payment. To apply, call Cindy at Community Options at 701-223-2417.
---

Join Our Listserve
---