Sportsmen Against Hunger Processor Information
When you're ready to donate your game, please contact a local SAH-approved meat processor in your community. Contact information for each of our processors is listed below by region.  Please contact the processor directly to make necessary arrangements.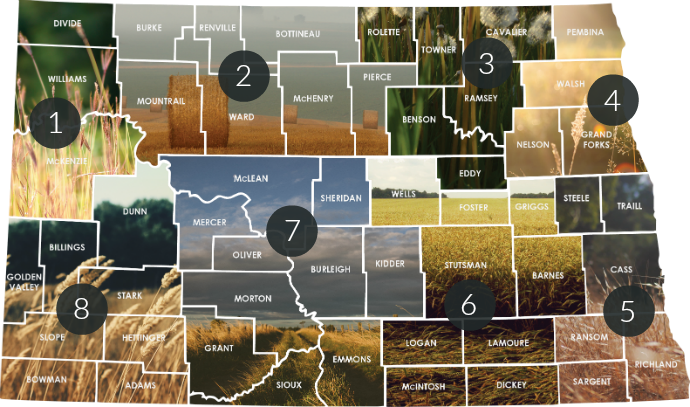 Region I (Divide, McKenzie, Williams)
No processors available in Region 1. 
Region II (Bottineau, Burke, McHenry, Mountrail, Pierce, Renville, Ward)
Myers Meat and Specialties - Kelsey Myers - 2452 70th Ave NW #B - Parshall - 743-4451
Mattern Family Meats - Leroy - 1401 Sinclair St - Bottineau - 228-2054
Region III (Benson, Cavalier, Eddy, Ramsey, Rollette, Towner)
K&E Meats - Shane Peterson - 425 8th Ave - Cando - 968-3183
Region IV (Grand Forks, Nelson, Pembina, Walsh)
Weber Meats - Wayne or Becky - 422 4th Ave - Reynolds - 847-2091

*Sponsor - Grand Forks County Wildlife Federation

Randy's Backyard Smokehouse (Supervalu) - Randy - 101 3rd St W - Park River - 284-6433
Region V (Cass, Ransom, Richland, Sargent, Steele, Trail)
Fairmount Lockers - Tim - 102 Main Ave - Fairmount - 474-5869
Maple Valley Locker - Kevin or Julie - 218 4th Ave - Enderlin - 437-3311

*Sponsor - E.S. Wildlife Club

Manock Meats - Steve Manock - 107 Main St - Great Bend - 545-7513

*Sponsor - Red River Area Sportsmen 
Region VI (Barnes, Dickey, Foster, Griggs, LaMoure, Logan, McIntosh, Stutsman, and Wells)
Reister Meat - Clyde or Penny - 4640 52nd Ave SE - Streeter - 424-3426

*Sponsor - Stutsman County Wildlife

Valley Meats - Rod - 1269 W Main St - Valley City - 845-4705
LaMoure Lockers - Jim Potts - 16 1st St SW - LaMoure - 883-5256
Warehouse Grocery - Rob - 321 10th St W - Harvey - 324-2509
Barton Meats, Inc - Jeff Barton - 1020 11th Street N - Carrington - 652-3636
Kramlich-Deede Meats - Joe Deede - 108 2nd Ave NW - Medina - 486-3353
Region VII (Burleigh, Emmons, Grant, Kidder, McLean, Mercer, Morton, Oliver, Sheridan, and Sioux)
Butcher Block Meats - Brian Masset - 108 West Main St - Mandan - 663-0558
West Dakota Meats - Wanae - 1125 Memorial Highway - Bismarck - 221-9142
The Meat Shop - Keith or Jesse - 713 HWY 49 N - Beulah - 873-2566
Region VIII (Adams, Billings, Bowman, Dunn, Golden Valley, Hettinger, Slope, and Stark)
Dakota Packing - Ed - 221 Hwy 12 E - Hettinger - 567-2422