Sportsmen Against Hunger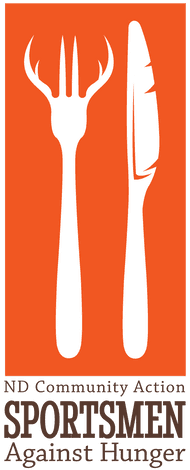 Food pantries continue to be in need of healthy sources of protein, particularly fresh/frozen meat. Perishable items are often the least donated, yet they are the most needed to prepare healthy, balanced meals. The Community Action Partnership of North Dakota Sportsmen Against Hunger Program is proud to bring together generous hunters, willing to donate game meat with families who can benefit from no-cost, nutritious protein sources by organizing the donation of legally obtained wild game to food pantries across North Dakota. 
If you are a meat processor and would like more information about the program or would like to become an SAH approved processors, please contact Faith Marthe at faithm@capnd.org or by phone at (701) 232-2452.
Donations and Sponsorships
Sportsmen Against Hunger is reliant on donations and grant funding to pay for the processing of all donated game. If you are interested in helping to pay for processing costs, donations are always welcome.  Donations can be submitted online! 
A big thank you to the many hunting groups across the state that support and contribute to the program!