North Dakota Rent Help
Community Action Agencies across North Dakota can help you apply for ND Rent Help. The program can provide up to 12 months of temporary rental assistance and other housing supports to those who qualify.  At all of our locations, we have Application Counselors, Housing Facilitators, and Whole Family Coaches that can provide help throughout the process.  Please call your local Community Action Agency if you need help with ND Rent!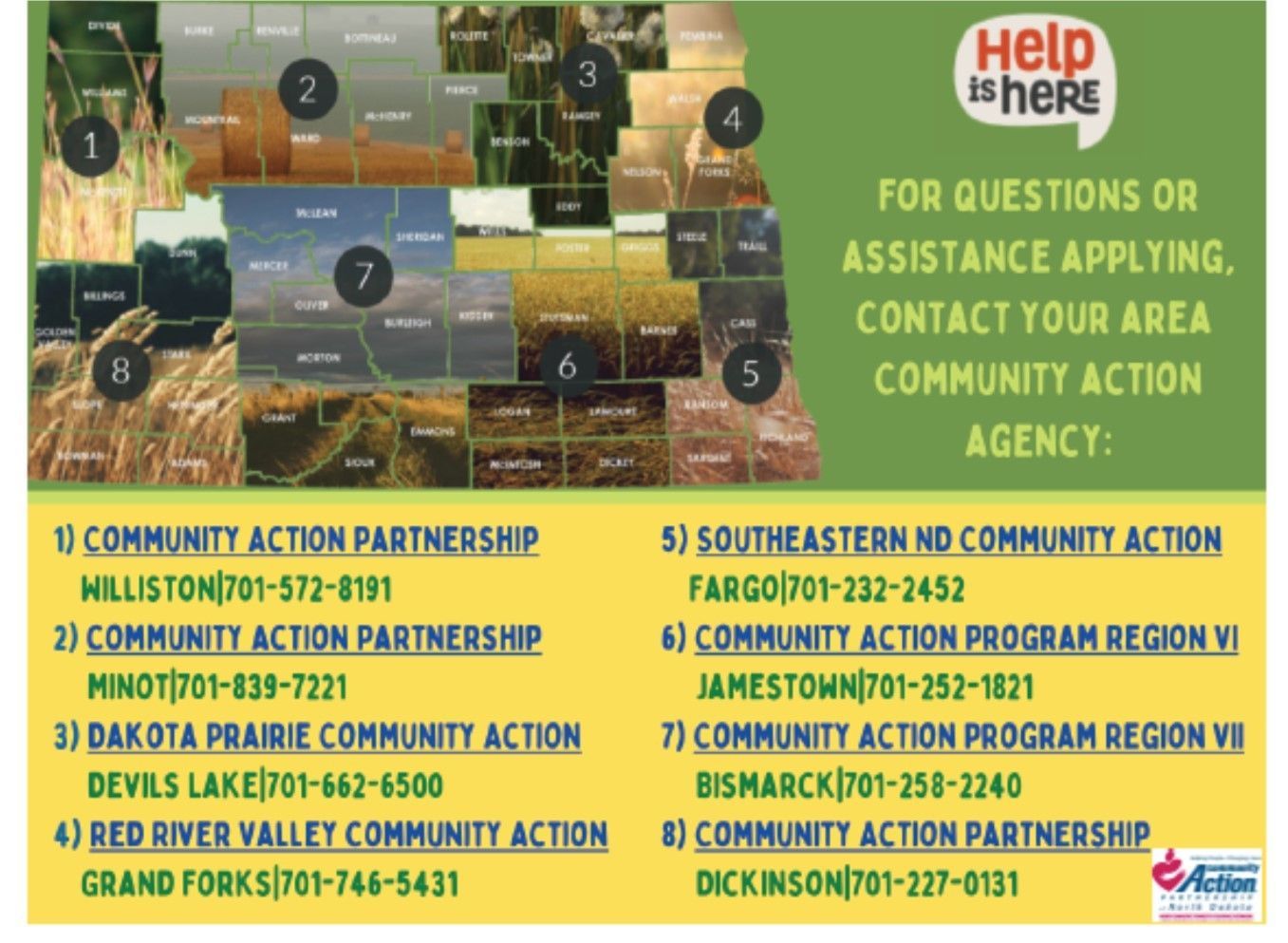 Application Counselors: Community Action Staff specializing in the ND Rent Help Program are able to assist you with completion and submission of the application.  Application Counselors can also:
Serve as the first point of contact for any applicant who needs assistance applying.
Assist the renter in understanding program requirements and in securing necessary documentation. 
Monitor the status of the renter's application and follow up as needed to support any required recertification.  
Assist renter with communication challenges that may arise with their housing provider referral to stability resources.
Connect applicants to housing facilitators and financial planning resources to help support greater economic stability.
Connect renters to mediation services if the housing relationship would benefit from third party conflict resolution services.
Housing Facilitators: Community Action Agencies also have Housing Facilitators available to assist eligible applicants who are at risk of homelessness or housing instability to maintain housing.  Housing Facilitators can:
Provide housing stability case management services to assigned households utilizing a strength-based approach that is rooted in Housing First, harm reduction and trauma informed care methodologies.
Assist participants in developing and attaining goals related to education, vocational training, employment, and/or other meaningful daily activities that improve overall well-being.
Broker, advocate, and assist in navigating eligibility requirements for service access amongst community resources.
Collaborate with community partners in housing programs and supportive service organizations.
Identify resources that may be available to make necessary environmental modifications to promote continued independent living.
Whole Family Coaches: All Community Action Agencies across North Dakota have Whole Family Coaches available to assist households/families with follow-on supportive services for the entire household to promote housing stability and improve self-sufficiency. Whole Family Coaches can: 
Resolve emergency situations that threaten housing stability
Help renters navigate issues related to lease requirements and adherence to rules of housing providers
Engage with households in maintaining or increasing household income
Assure household is connected to necessary healthcare resources that assures housing stability is not threatened
Support overall needs of the family by connecting them to both formal and informal supports that contribute to housing stability and success
Utilize a strength-based approach that is rooted in the Housing First Approach and trauma-informed methodologies 
Broker, advocate, and assist households in navigating eligibility requirement for services among community resources 
Identify resources that may be available to make necessary environmental modifications to promote continued independent living